The Pilates Studio was founded by Amy Bruckmeier in 2008 with the goal of creating an inviting and personal atmosphere for private Pilates sessions. Before opening The Pilates Studio, Amy worked in many studios, both large and small, and taught in a wide variety of situations: large group mat classes of up to fifty people, or small classes of five or six people on the Pilates equipment, or training clients individually in private sessions on mat and equipment.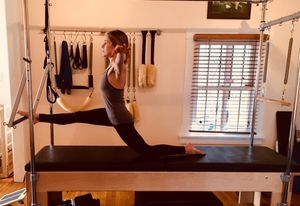 Amy wanted to open a studio that wouldn't have the distractions of a mid-size or large studio, in which two or three trainers and their clients are in the same space at the same time, so she opened a studio that features only private sessions. The Pilates Studio has two individual studios, both fully supplied with top quality Pilates equipment and accessories. During your session you and your trainer will have exclusive use of the space so you can truly focus your mind and body without any distractions. The studios are peaceful and clean with lots of natural light and are surrounded by an urban garden, making The Pilates Studio an ideal place to devote oneself to health and well-being.
Amy feels truly grateful to work with such an inspiring community of trainers and clients; people who transform the studio each day with their energy, life, laughter and dedication to their Pilates practice.
I am not a particularly active person and I struggled for a long time to find a type of exercise that was a good fit for me. Pilates is it! I have been doing Pilates regularly for 16 years now. I originally came to Amy and The Pilates Studio for rehab from an injury about 10 years ago and I have never left. Working with Amy is really wonderful. She tailors my routine around my limitations while at the same time helping to expand my capabilities and to improve my strength and health. And as a bonus, after working with her for so long, I consider her a friend. - Karen