The Pilates Method teaches you to be in control of your body and not at its mercy. - Joseph Pilates
PILATES
Pilates is movement training that can dramatically transform the way your body looks, feels and performs. Pilates will enable you to move more efficiently and with less effort, improve control and precision, and move with more confidence and power. 
Pilates is based on the work of Joseph Pilates. Pilates is based on these principles:
Breath, Control, Coordination
Flowing Movement
Concentration, Relaxation
Balanced Muscle Development
Precision
At The Pilates Studio, our instructors have a thorough knowledge of Pilates and have experience training people of all levels of fitness and ability. Whether you are doing Pilates for rehabilitation from an injury or chronic pain, fitness, sports-specific training, prenatal or postpartum training or to reduce stress and promote relaxation, when you train at The Pilates Studio you will feel better and have fun while doing it!
Rehabilitation-Based Pilates
Many conditions, some of which are listed below, respond well to Pilates-based rehabilitation programs. At The Pilates Studio we have tremendous experience in creating rehabilitation-based programs. Read what our clients are saying: 
low back pain
low back dysfunction
sciatica
SI pain/dysfunction
hip pain
stenosis
bulging or herniated discs
forward head posture
kyphosis
lordosis
scoliosis
frozen shoulder
shoulder injury/replacement
hip/knee replacement
knee/ankle/foot pain
carpal tunnel syndrome
"Thanks to Amy, I am no longer a person defined by lower back pain, but rather a person with occasional pain that I know how to manage. I am stronger and more agile, able to do things I once thought impossible. And I'm grateful" - R. Alexander
Though Pilates-based rehabilitation can be very effective, it is important to consult with a licensed medical professional before starting a Pilates program. Our instructors often collaborate with other health care professionals such as chiropractors, neurologists, massage therapists, physical therapists, acupuncturists and osteopaths to make sure that we are all working towards the same goals for your health and well-being.

Sport Specific Pilates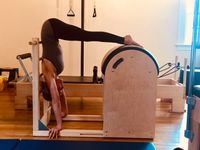 Every athlete would benefit from a stronger core - the deep abdominals along with the muscles closest to the spine - and doing Pilates will give you that and much more. Whether you are a weekend warrior, enthusiast or elite athlete, Pilates can give you a competitive edge by correcting faulty movement patterns and improving alignment to make your body move more efficiently, with more power, flexibility, strength and control. At the Pilates studio we work with golfers, runners, hikers, skiers, cyclists, soccer players, swimmers, dancers, tennis players and gymnasts, and much more. Train with us to gain a competitive edge!
"After 18 years as a mountain guide/business owner I found myself in a lot of pain, often. Amy Bruckmeier's Pilates classes have been a bright spot in maintaining an active lifestyle with greater strength, more flexibility, and less overall pain. Amy's enthusiasm for Pilates and its benefits is contagious and her patient teaching style and attention to each person's needs make her a wonderful teacher. I would recommend Amy and her classes to anyone!" - Ian Elman, Southern Yosemite Mountain Guide

Prenatal and Postpartum Pilates
A woman's body changes dramatically during pregnancy, and Pilates can help support the body through the transformation. At The Pilates Studio we use safe and effective pregnancy protocols to work with women during all phases of pregnancy. During your sessions you will work closely with your trainer so that you are prepared for the challenges you are going through.
After the baby is born, doing Pilates will stretch, tone and strengthen your whole body and help create postural awareness that you can apply to nursing or carrying your baby.