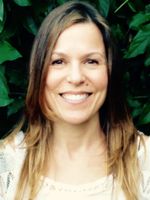 Amy Bruckmeier - Senior Certified Pilates Instructor, Owner of The Pilates Studio
Amy Bruckmeier is a certified Pilates instructor rehabilitation specialist, educator and creator of weekly home programs for her clients. She received her formal training from Ellie Herman at EHS San Francisco, and later received a second full certification through Balanced Body University. Amy assisted Master Instructor Lisa Graham at Agile Monkey Pilates Studio in Santa Cruz in the Balanced Body Teacher Certification Program (teaching the complete Pilates repertoire to prospective teachers) in 2008, and again in 2009. 
In 2011/12 she completed an intensive Pilates mentorship program, studying under the late Master Instructor Julian Littleford of JL Body Conditioning in Del Mar, CA. 
In 2010 she completed three workshops with Kinesiologist Jean-Claude West; a course in Assessment & Strategy to Restore Efficient Function to the Body and another in Adaptive Responses at Ankle, Hip and Spine, and a third workshop in movement sequencing Adaptive Responses; Who Is The Driver, then in 2015 completed a fourth workshop with Jean-Claude West and Marshall Hagins PT; How To See The Spine-Finding Asymmetry and Providing Corrections. Amy still studies regularly with Jean Claude West in private sessions.
Amy studied Pilates Training for Athletes in a series of ongoing workshops with Joerg Chabowski, ACSM. She has also trained in muscle/joint rehabilitation with Lizz Roman and Marie-Jose Blom, as well as completed additional study of prenatal/post partum exercise protocols with Core Conditioning. Amy has two daughters and did Pilates regularly up to delivery with both girls. She had no back pain with either pregnancy, and credits her quick recovery after delivery to maintaining a regular Pilates practice. Always eager to learn more about the body, Amy studied assisted muscle activation and strengthening techniques with Giles Gamble who is certified as a practitioner and teacher of the Hendrickson Method of Manual Release Therapy.
Read what Amy's clients are saying.
Amy believes in the body's ability to heal itself; given the proper training and follow-through. She has written hundreds of home programs; programs that she designs specifically for each client so that her clients can continue their Pilates work in between sessions by doing a custom program at home. For many years, Amy was the Rehabilitation Specialist at the Hendrickson Clinic in Kensington, CA, and still maintains strong working relationships with the chiropractors and massage therapists from the clinic despite the clinic closing in December 2021. She has had success using Pilates to rehabilitate clients with lumbar disc degeneration, herniated discs, stenosis, chronic back pain, rotator cuff injury, frozen shoulder, knee and hip replacement, sciatica, scoliosis, postural imbalances and more.  
Amy's client base is varied; currently her oldest client is 91 and at least a third of her clients are men. She works with mothers through all phases of their pregnancies. She appreciates that this varied clientele maintains a growing interest and trust in the Pilates method.
Amy has a background in competitive gymnastics, dance, swimming, and is an avid cyclist, both mountain and road biking. As a competitive gymnast, she had a rigorous and intense training schedule. Through good coaching, hard work and dedication, she not only attained her own personal best but also found deep satisfaction in movement, strength, flexibility and health. She still retains this disciplined and enthusiastic approach to exercise and the Pilates method and finds time to do Pilates herself at least four times a week, always feeling rejuvenated and refreshed after her sessions. Amy believes that with work and dedication each of her clients can achieve better overall health and well-being.