Joanna Clinton - Senior Certified Pilates Instructor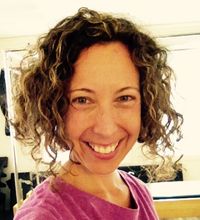 Growing up dancing, my love for movement began before I can remember. I was introduced to Pilates in 2003 as rehabilitation for my lower back. Through my study of Pilates I was able to heal my pain and fundamentally change my body mechanics. That transformative experience led me to become a comprehensively certified instructor through Balanced Body University. I bring a deep sensitivity to my teaching. I find joy in helping clients learn, understand and grow in their own practice and am passionate about educating them about the strength and power of their own bodies.
In the studio, I work with clients of all ages and fitness backgrounds ranging from pre-natal and postnatal fitness, rehabilitation to Pilates for athletic performance. As a mother of two, I have a profound understanding and connection to how Pilates can benefit pre and post natal bodies. I taught Pilates at the UC Berkeley Recreation Center for many years and worked as a core trainer for the Cal Triathlon Team and the Pilates trainer for Cal Women's Swimming from 2010-2015. My work with these teams has contributed greatly to my interest and experience in working with athletes. 
I hold an MA in teaching English to Speakers of Other Languages and use my teaching background to provide my clients with a clear way to move and to better understand their bodies. It brings me distinct joy to work with clients as they deepen their connection to their bodies.