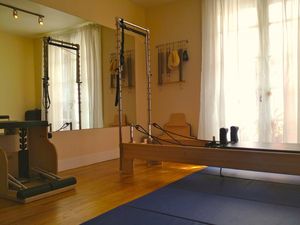 The Pilates Studio is located at 1611 San Pablo Avenue in Berkeley, three doors south of Acme Bread and Kermit Lynch Wine Merchant, with Cedar St. as the nearest cross street.
Our studio is a boutique Pilates studio offering private sessions in an inviting and clean space with a full array of top quality Pilates equipment manufactured by Balanced Body. The studio has plenty of natural light and is set back from San Pablo Avenue. It is surrounded by an urban garden that adds to the studio's peaceful interior and makes it an enjoyable space to focus on health, fitness and well-being.
Not only are our instructors fully certified and comprehensively trained, but we truly enjoy teaching Pilates. We will create programs that are specifically tailored to your body and your needs.